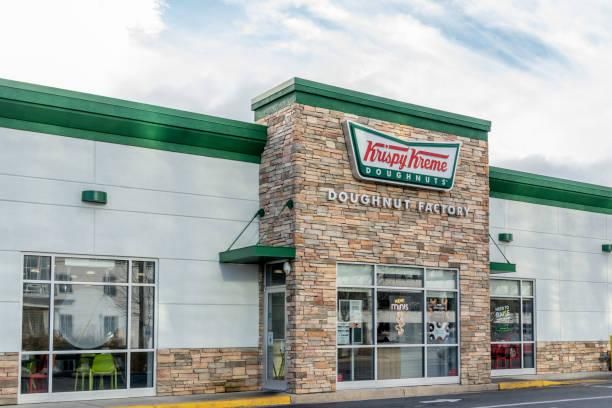 Reasons Why Not to Buy Krispy Kreme Franchise
Many times the biggest brands can also prove to be a very wrong investment. One such brand can be Krispy Kreme, an American Doughnut company and coffeehouse chain. Founded in 1937 in North Carolina, they sell Doughnuts and complementary products such as packaged sweets. The company does business through retail, wholesale, and franchising Krispy Kreme stores. As of August 2015. Krispy Kreme had 173 domestic franchise stores and 758 international Krispy Kreme franchise stores.
With little to differentiate the products, it is unlikely that Krispy Kreme will take market share from larger competitors, especially if firms like McDonald's decide to compete directly with Krispy Kreme by introducing more bakery and breakfast items as they had recently done in October 2020.
Where would you like to invest in 2022? An obsolete fast-food franchise, or in an innovative fast-casual restaurant franchise that's growing like crazy?
Franchise Business
A franchisee is a great model of investment. If you have enough capital and resources at your disposal, you can rent a business that has been proven successful. A franchise is all about the brand and the value it has created in the minds of customers.
A franchise owner gives you the name and the operating format of the business in exchange for a fee and a percentage share in profit. This model is a win-win for both the brand owner and a franchisee (franchise taker). It provides an investor with a successful name and product to work with, allowing a franchise owner to expand business in different territories.
Starting a franchise is a considerable investment in terms of money and time. To avoid failures, you have to do your research well. Analyze how much a franchise owner earn in the USA after assessing all the factor, including:
Expenditure
Competition
Training
Restrictions
Track Record of the brand with other franchise owners, and
Your market's requirement
Why Krispy Kreme Franchise Investment Can Fail?
Like all investments, the franchise has advantages and disadvantages involved. There could be many reasons for a franchise not to be successful. These reasons can be environmental, franchise-related, or personal. For example, sometimes the market is not good to recover the cost of a franchise, or it could be about your lack of expertise or passion for the business you have invested in that you don't make much profit as a franchise owner of Krispy Kreme.
These are the top 5 reasons why you should not take a Krispy Kreme Franchise:
#1 A Small Percentage Of Market Share:
Krispy Kreme defines its business as a "sweet treat retailer." However, the firm operates in the QSR (Quick service restaurant) industry. In 2020, the QSR industry generated 610 billion dollars in worldwide revenue. Though there is a growing demand for fast food and beverages, it doesn't mean all QSR firms are on equal footing. In 2020 Krispy Kreme had a sale of approx $1.2 billion, which means Krispy Kreme held only 0.2% market share, which is way lower than competitors such as McDonald's (15.3%) and Starbucks (6.5%).
#2 Demand For Healthier Options:
A 2015 survey by Nielsen found that 49% of global respondents felt they were overweight, 50% said they are trying to lose weight with a Mediterranean diet, and 62% of those changing their diet to lose weight said they were cutting down on sugar.
More recently, a 2019 survey said that 75% of people who want to eat healthier today prefer to visit fast-food franchises serving healthy diet food and skipping what they were eating 10 years back.
Krispy Kreme, a doughnut company, cannot sustain its high sugar menu in today's times. During this pandemic, the consumers are also becoming health conscious and choosing a healthier options in eating.
The world is fast undergoing a change in eating habits which is different from the high sugar and high fat menu of Krispy Kreme.
#3 Competition With Bigger And Better Names:
The recognition and popularity of brands like Yum Brands, McDonald's, or Starbucks are much more than Krispy Kreme. Krispy Kreme may have a long history and past popularity, but it quickly loses its name with the competition today. Especially in countries like India, where the other brands have a much stronger hold and appeal.
Brands like McDonald's and Yum have adapted themselves to the Indian environment and taste much better than Krispy Kreme has done with a few of their stores till now.
#4 Aggressive growth Vs. Profitability:
Krispy Kreme has always believed in growing aggressively. Since being taken private in 2016, Krispy Kreme has focused on increasing sales and increasing points of sale, or all locations at which Krispy Kreme doughnuts or cookies could be sold. If this line of growth is seen, then Krispy Kreme's strategy has succeeded. Krispy Kreme has grown from 5,926 in 2018 to 9,077 in the fiscal 1Q21.worldwide.
The problem here is you might be the first to open a Krispy Kreme store in your area, but you could find yourself competing with another franchisee down the line. Franchisees are not granted any exclusive territory or protection. According to the company's FDD. "We reserve the right to operate and to grant others the right to operate stores and commissary facilities at any location on such terms and conditions as we deem appropriate."
While new stores meant more money for the company, it was always bad business practice for franchise owners whose profits were compromised with multiple sales points.
During the glazed donuts' popularity, people would wait in lines to taste the mouth-watering dessert made in front of customers' eyes. Capitalising on the popularity, Krispy Kreme sold its brand everywhere possible – ranging from gas stations to kiosks – which took away the product's charm and resulted in much lower profits for the franchise owners.
#5 A Long Lead Time And Non-Working Hours:
Depending on the store format you plan to open, you could wait up to 65 weeks between signing a franchise agreement and opening a store. The FDD states it could take as long as 18 months to open a Factory Store and as little as two months to open a Fresh Shop. The time may be increased or reduced depending on the location and condition of the site, the construction schedule, the extent to which an existing location will need to be renovated, the delivery schedule for equipment and supplies, and getting the necessary permits. The franchise managers must also complete training at least 30 days before opening.
You will also have to do 16 weeks of off-site training before you can open your store. According to the FDD item 19, franchisees should expect 40-50 hours a week of training in weeks one through eight at a store location on production, retail, processing, and shift management. This could mean a lot of non-working paid hours for the company, which will be a big added expense.
Sources
WE SERVE THE FOLLOWING STATES
Looky Weed - Buy Marijuana Online
Looky Weed is here to help you navigate the maze of legalized marijuana. We provide you with a complete dispensary directory.
© 2023 Restaurant Listings. All rights reserved.