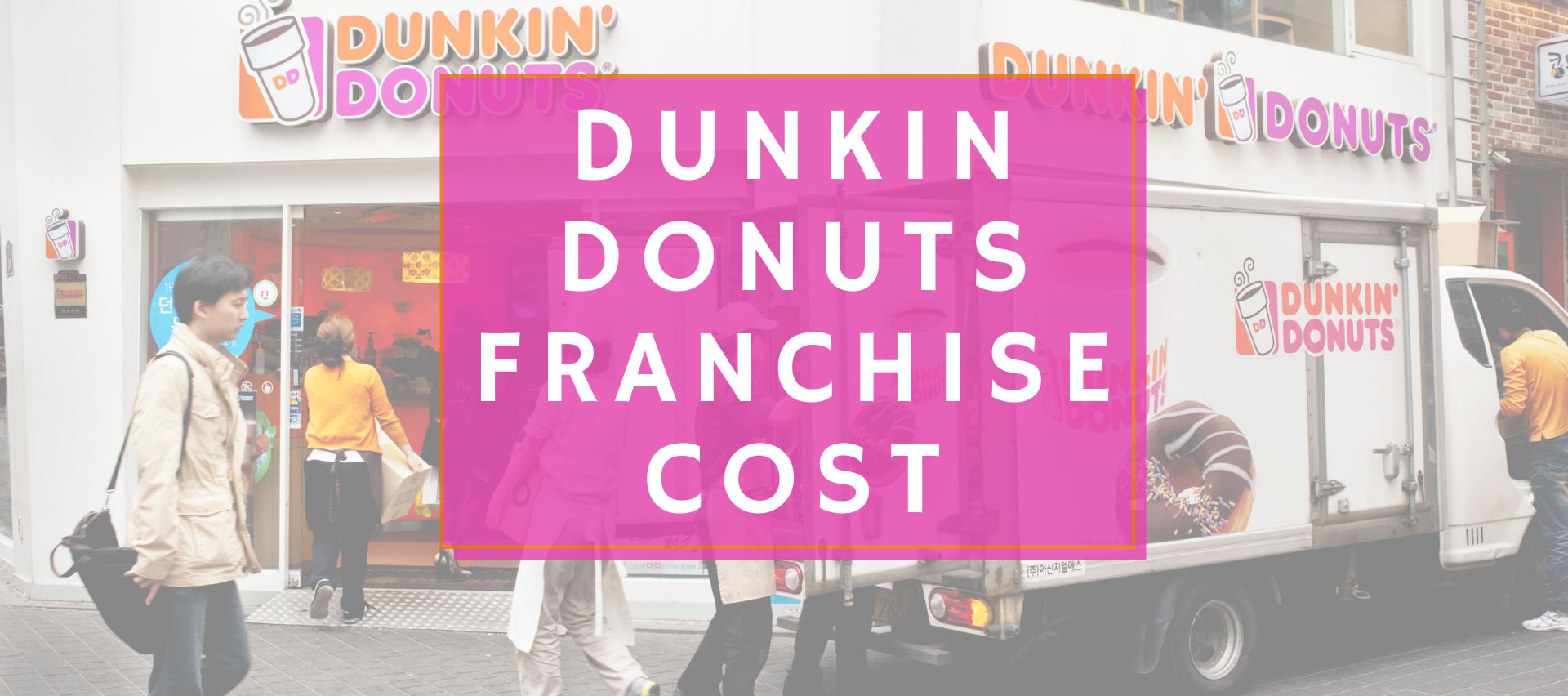 Dunkin Donuts Franchise Cost
Choosing the best franchising opportunities for you is never easy. Every franchisor will tout their company as the best-loved concept around and encourage you to take advantage of their excellent franchising opportunity. Dunkin Donuts, America's largest coffee & baked goods chain, has grown to more than 12,000 restaurants worldwide since its 1950 inception - so there's something to learn from this franchisor.
Also, "Dunkin' Donuts has earned a #1 ranking in customer loyalty and engagement for ten years in a row in an increasingly competitive category. "Their quality products and consistent service are contributing to a recipe for long-term success," said Robert Passikoff, president of Brand Keys.
What makes Dunkin Donuts So Popular?
The business model of Dunkin donuts is unique as it follows stable and effective brand marketing. Dunkin Donuts carefully gauges which cities and neighborhoods will show the most potential for franchise growth, and then they work to establish a presence in those territories. This includes taking advantage of real estate deals and making strategic franchisee placement decisions. However, it does cost a considerable amount of money to open a Dunkin Donuts franchise — with an initial investment ranging from $1.7 million to $3 million.
The company asks for $40,000 as a franchise fee and an additional cost of running the franchise at 5.9% of its gross sales plus 5% of advertising fees."
However, on the contrary, if you buy a franchise of Starbucks, which is the competitor of Dunkin donuts, it will cost you around $40,000 to $90,000, which is much higher than the cost of opening a Dunkin donuts franchise.
There are many reasons why you should not purchase a Dunkin Donuts franchise. Some are more obvious than others, while others can be seen only after some digging. But either way, all of the following information is important to know before you make a final decision.
Also, there are a lot of short-term investment avenues that have similar startup costs to Dunkin donuts; you can find such exciting opportunities here.
Cost Breakdown for Buying a Dunkin Donuts Franchise
Total investment range: $97,500 to $1.7 million
Initial franchise fee: $40,000 to $90,000 (varies by location)
Net worth: $500,000 minimum
Liquid Capital: $250,000 minimum
So, if you're interested in buying a Dunkin Donuts franchise, you should have at least $500,000 as net worth. You'll also need to have liquid capital of $250,000, plus additional costs to buy the franchise, like training and marketing fees.
The Other Details About Dunkin donuts Franchise
The franchisor does not allow direct participation of the Franchise owner
Franchisees need to give written approval to the company to have an online sale of the products.
Only the franchisor has a complete say in deciding the location of the business outlet, and it is also the owner of its real estate.
The franchisees do not have any say in selling the outlet or passing it on to the next generation.
Franchisees do not own or receive equity in their outlet, which is a significant drawback of buying Dunkin Donuts.
The franchise term is for 20 years, and the renewal is only applicable if you meet all the requirements.
The cost breakdown to buy a Dunkin Donuts Franchise is as Follows
Initial Franchise Fee
$10,000
$90,000
Building Costs
$19,500
$600,000
Site Development Costs
$0
$350,000
Additional Development Costs
$4,700
$90,000
Equipment, Fixtures, and Signs
$57,000
$300,000
Restaurant Technology System
$9,700
$95,000
Licenses, Permits, Fees, and Deposits
$500
$5,500
Real Estate Costs

Varies

Opening Inventory
$4,000
$20,000
Miscellaneous Opening Costs
$9,500
$70,000
Uniforms
$0
$1,200
Insurance
$4,500
$16,000
Travel and Living Expenses While Training
$2,000
$35,000
Marketing Start-Up Fee
$0
$10,000
Additional Funds for First 3 Months of Operation
$0
$105,000
ESTIMATED TOTAL* (doesn't include real estate costs)
$121,400
$1,787,700
Comparison With Competitors In QSR Industry
Some of the other popular restaurants in the QSR industry has the following minimum net worth requirements as against their percentage royalty:
| | | |
| --- | --- | --- |
| Brand | Net worth required | Percentage Royalty |
| Starbucks | $2 Million | 7% |
| Wendy's | $5 Million | 4% |
| Jack in the Box | $1.5 Million | 5% |
| Carl's Jr. | $1 Million | 5% |
| Dunkin Donuts | $1.2 Million | 5.9% |
While most other franchises require a net worth in the range of 3-4 million, Dunkin Donuts franchise owners need just $1,2 million. Additionally, the Dunkin Donuts Franchise provides 40% in incentives in their initial years if you are willing to open up another outlet in the same vicinity within twelve months.
How Much Does The Franchise Owner Of Dunkin Donuts Make In A Year
According to the past estimates and the research, the company claims in FDD item 19 that the Dunkin Donuts Franchise owner earns around $124,000 or 60 $ per hour. That is 70% higher than the national average for all Franchise Owners at $60,000 annually and 61% higher than the national salary average for all working Americans, which sounds like a great deal.
However, the other overhead costs and expenses such as employee wages and food purchases are then deducted.
One of the essential steps in the franchise decision is to know what your net profit will be and what items will affect it. The income statement shows whether you will make a profit or lose money on a financial statement basis.
Should You Invest In The Dunkin Donuts Franchise?
When you buy a Dunkin Donuts, your investment is in the brand. It's the reason why you make money. But before you decide to buy one, understand that there are some drawbacks to purchasing an existing franchise. For example, it's challenging to get one in the first place. You have to be lucky enough to satisfy all the requirements to get your store up and running. Plus, it requires hefty financial investment.
WE SERVE THE FOLLOWING STATES
Looky Weed - Buy Marijuana Online
Looky Weed is here to help you navigate the maze of legalized marijuana. We provide you with a complete dispensary directory.
© 2023 Restaurant Listings. All rights reserved.